Web Design and SEO Company in California
Welcome to Nayem Digital's website! We are happy to have you here, and we hope that you'll find everything you need to properly market your goods and services.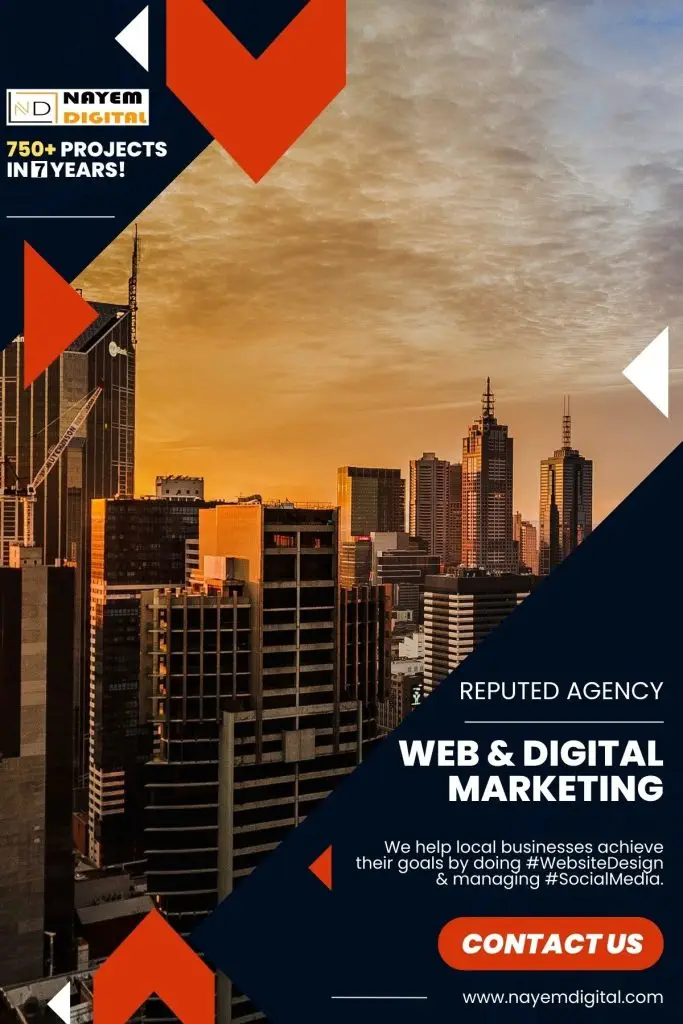 Nayem Digital is a privately owned Web and Digital Marketing Agency based in California, USA. The agency has been formed in 2017. We are an affordable web design and SEO company in California. We specialize in creating websites and optimizing them for search engines. We are fully equipped with a solid team of Web Designers and Developers, Mobile App Developers, Social Media Marketers, Affiliate Marketers, Graphic Designers, and Writers, with over 7+ years of accumulated experience. We have happy clients who are with us for over 7 years or more. We have a profound belief in ourselves that we can do hard work and face all the challenges with honesty, wisdom, and integrity. 
See If We Can Help in 3 Easy Steps
STEP: 1  Please book an online meeting for a free consultation with the details of your website design and/or marketing project and goals.

STEP:2  If we think we can help you succeed, we'll begin our conversation by sharing some ideas about your business.
STEP:3  After some exploration, we will create a contract that details the scope of work, cost, and deliverable timelines after a bit of investigation.
Don't let an outdated website hold back your business. Get affordable website design services in San Diego to boost your online presence and attract more customers. Contact us today!
Helping Local Business Owners Succeed
Don't let an outdated website hold your business back. Our affordable web design and SEO services in Pleasanton will help you attract more customers and increase sales. Focus on what you do best while we take care of your online presence.

You May Be Encountering One Of The Following Issues:
An Outdated Website
Ineffective Advertising Campaigns
Failed Sales Opportunities OR SEO Strategies
A strong marketing strategy should keep customers engaged and actively seeking out your brand.
Your company's growth shouldn't be harmed if you are too busy to constantly market your brand.
Are you looking for affordable website packages that won't break the bank? Look no further than Nayem Design! We offer three different packages starting at $550. We offers customized packages that cater to the requirements and financial limitations of small businesses, organizations, and individuals seeking to sell products online. Our unique designs are created from scratch based on client requirements and standards, and their hand-coded designs receive positive feedback from clients. In addition to our website design services, we also specialize in search engine optimization to enhance your online presence. We even offer services for existing websites, such as design updates, mobile compatibility, and malware removal. With Nayem Design, you can have a professional website that meets all your requirements.
Are you ready to take your website to the next level? Look no further than monthly SEO services of Nayem Digital! With monthly SEO services, you can expect incredible results month after month. Imagine seeing your website climb higher and higher in the search engine rankings, bringing in more traffic and potential customers. It's an exciting prospect, and with monthly SEO services, it can become a reality. What makes monthly SEO services so special? Well, for starters, they provide ongoing optimization for your website. This means that every month, a team of experts will be working tirelessly to improve your website's visibility and rankings. They'll analyze your website, conduct keyword research, optimize your content, and build high-quality backlinks. The best part is that they'll do all of this on a consistent basis, ensuring that your website remains competitive and stays ahead of the game.
Are you ready to take your website to the next level? Look no further than our incredible Nayem Digital's link building packages! With our expert team of SEO professionals, we have carefully crafted the perfect packages to skyrocket your website's rankings and increase your online visibility. Our link building packages are designed to provide you with high-quality backlinks from authoritative websites, ensuring that your website not only climbs the search engine rankings but also stays there. These packages are your secret weapon to outrank your competitors and drive organic traffic to your website. Don't miss out on this opportunity to boost your online presence with our amazing link building packages! Don't waste your time and effort on ineffective link building strategies. Our link building packages are the solution you've been looking for to propel your website to the top of search engine results pages.
Are you looking to boost your business's online visibility and attract more customers? Look no further than the amazing Google My Business Optimization service of Nayem Digital! This incredible service is designed to help businesses like yours optimize their online presence on Google, the most popular search engine in the world. With Google My Business (GMB) Optimization, you can ensure that your business appears prominently in local search results, making it easier for potential customers to find you. Not only that, but this service also allows you to showcase important information about your business, such as your address, phone number, and business hours. With the help of our service, you can make your business more visible and accessible to a wider audience. So why wait? Take advantage of the Google My Business Optimization service today and watch your business soar to new heights!
Need a website for your local service business?
Don't see your type of business on the list listed? We can help you too.
Give us a call 𝟕𝟎𝟕-𝟖𝟒𝟐-𝟎𝟐𝟑𝟕!
Have Any Issues on Your Website?
Get a Free Website Analysis Report
Looking for a professional website designer in Los Angeles? Our team specializes in local SEO services to help your business rank higher in search results. Contact us today for a customized website design and SEO strategy.
Why Our Clients Love Working With NayemDigital...
Get a professional website designer in Orange County to revamp your online presence. Don't let an outdated website hold you back – contact us today for expert solutions.