Website Design and Development with Affordable Website Packages​
Creating an end-to-end product journey is what website design is all about. Whether you need a simple website to get your business online or a sophisticated e-commerce website, our team of graphic designers will help you create your business website in accordance with your expectations, providing innovation and bringing your vision to life. You should be able to trust the impressions your website gives off. To design the best possible website, we begin with thorough market research, reasonable strategies, and expert execution. We can create truly remarkable web experiences that stand out among other comparable websites.
Our website design and development services combine all the flavors to create a strong, protected, SEO-friendly, and original website that works on any device. To provide you with the best possible services, we blend all ingredients sufficiently to create a highly functioning, secure, SEO-friendly, and distinctive website that functions properly on any device it is viewed from.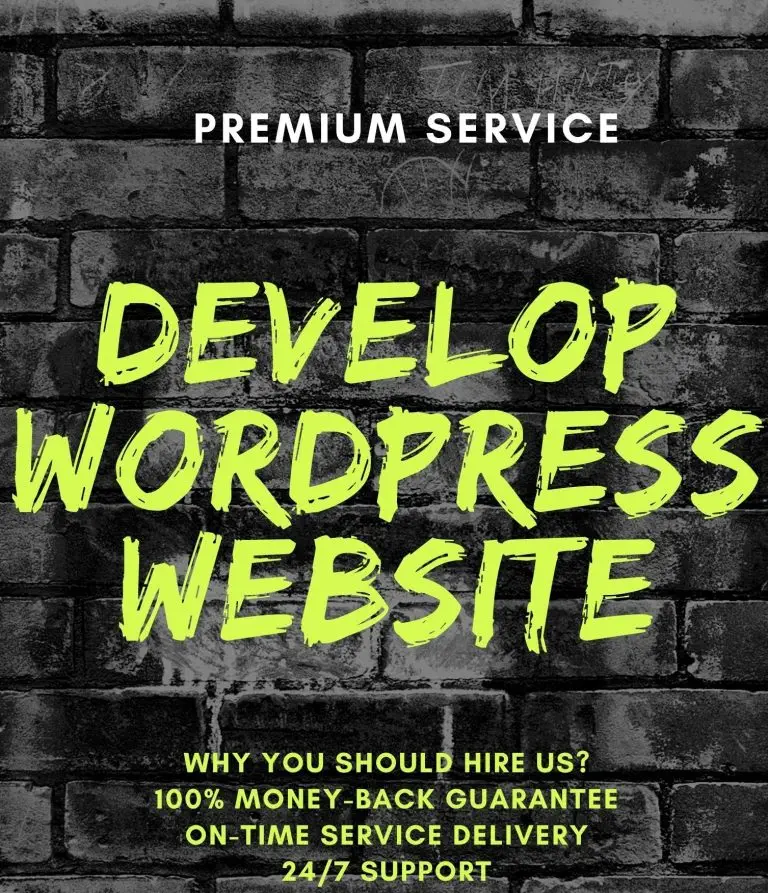 If you need a reliable and outstanding website tailored to your needs, you have found the right Gig! Our focus on aesthetics and professionalism makes us stand out from the rest, and will do the same for your business!
We have developed hundreds of modern and captivating websites for our clients and they are all happy about it 🙂
Our services include:
– Full website creation
– Existing website's customization
– E-Commerce sites and online stores
– Conversion to WordPress from Wix/Squarespace etc
– Re-designing and re-development of outdated websites
– WP installation and setup
– Theme and plugin installation
All our projects have the latest tools to support your business e.g. Live Chat, Mailchimp, Newsletter, Social Media integration, etc.

Why should you select Us?
–  Proper Quality Assurance
– Responsive designs
– Crystal-clear dealing
– On-time delivery
– Unlimited revisions
– 750+ happy clients
We cater to all types of businesses and would love to assist you in your next project!
Answers to all of your question about our NayemDigital web design services.
BASIC
Basic Website Design & Development+ Premium Theme (1 License)+2 Social Profiles
Plugins installation: Up to 5

Number of Social Media: Up to 2
STANDARD
Standard Website Design & Development+ Premium Theme (1 License)+ 3 Social Profiles
Plugins installation: Up to 10

Licensed images: Up to 10

Number of Social Media: Up to 3
PREMIUM
Premium Website Design & Development+ Premium Theme (1 License)+Page Builder+ 4 Social Profiles
Number of pages: Up to 14

Plugins installation: Up to 15

Licensed images: Up to 15

Number of Social Media: Up to 4
Website Packages: How to Choose the Perfect Package for Your Business
Introduction
Finding the perfect website package for your large, medium, or small businesses can be a daunting task. With so many options available, it's easy to feel overwhelmed and unsure of where to start. But fear not! In this article, we will guide you through the process of choosing the ideal website package that aligns with your business goals and budget.
Before diving into the details, it's important to understand the different types of website packages available. There are generally three main types: self-build platforms, template-based packages, and custom-built websites.
Self-build platforms, such as Wix and Squarespace, provide you with the tools to create and manage your website on your own. These platforms are user-friendly and require little to no technical expertise. They often offer a range of templates and drag-and-drop features, making it easy to customize your site.
Template-based packages, on the other hand, provide pre-designed templates that you can choose from. These templates are usually created by professional designers and offer a more polished and professional look. Template-based packages often come with added features and functionality, allowing you to create a more customized website without starting from scratch.
Custom-built websites are designed from the ground up to meet your specific requirements. This option offers the most flexibility and allows for complete customization. However, custom websites are typically more expensive and time-consuming to create.
Factors to consider when choosing a website package
Now that you have a basic understanding of the different types of website packages, let's delve into the key factors you should consider when making your decision.
Business goals and needs
Start by identifying your business goals and needs to figure out the best web development packages. Are you looking to create a simple online presence or do you require advanced features such as e-commerce functionality or membership portals? Understanding your goals will help you determine which website package aligns with your specific needs.
Ease of use
Consider your own technical expertise and the level of control you want over your website. If you prefer a hands-on approach and want to be able to make changes to your site easily, a self-build platform or template-based package might be the right choice. If, however, you're not comfortable with technology or prefer to focus on other aspects of your large, medium, or small business, a custom-built website or a package that offers ongoing support might be a better fit.
Scalability and growth
Think about the future of your business. Do you anticipate significant growth in the coming years? If so, consider whether the website package you choose can accommodate your future needs. It's important to select a package that allows for scalability and can easily be expanded as your business grows.
Start by asking yourself the following questions
What is the purpose of your website? Determine whether you need an online presence for your local services, an e-commerce platform, a blog, or a combination of these.
Who is your target audience? Understand your target audience's preferences and needs to ensure your website is designed to cater to them.
What are your business goals? Define the objectives you want to achieve with your website, whether it's generating leads, increasing sales, or building brand awareness.
By answering these questions, you will gain clarity on what your website needs to accomplish and can then proceed to evaluate the features and functionality offered by different website packages.
Evaluating the features and functionality of website packages
Once you have a clear understanding of your business needs and goals, it's time to evaluate the features and functionality offered by different website packages. You should consider the following aspects.
Website Design options
Review the design templates and customization options available in each package. Look for templates that align with your brand identity and check if they can be easily customized to suit your preferences.
Content management system (CMS)
Evaluate the CMS offered by each package. A user-friendly and intuitive CMS will make it easier for you to manage and update your website without relying on external help.
E-commerce functionality
If you plan to sell products or services online, check if the website package includes built-in e-commerce features, such as shopping cart functionality, payment gateways, and inventory management.
SEO capabilities with Website Packages
Consider the SEO features offered by the website package. A good search engine optimization strategy is crucial for driving organic traffic to your site and improving your search engine rankings. Look for packages that offer SEO-friendly features, such as customizable meta tags, URL structures, and XML sitemaps.
Integration options
Evaluate the integration options available in each package. Determine whether the package can seamlessly integrate with other tools and software you use, such as email marketing platforms, CRM systems, or analytics tools.
Comparing pricing and budget considerations for web design
Pricing is an important factor to consider when choosing a website package. It's essential to find a package that fits within your budget while still meeting your business needs. Launching a business website is very challenging for a person who has no experience in website design packages. Here are some points to keep in mind:
Package pricing
Compare the pricing of different packages and determine whether they offer value for money. Remember to consider any ongoing costs, such as hosting fees or domain registration.
Hidden costs
Look for any hidden costs that may not be apparent upfront. Some packages may charge additional fees for premium features, logo design, content creation, plugins, or customer support.
Contract terms
Read the contract terms carefully to understand any long-term commitments or cancellation fees associated with the package. Ensure the package offers flexibility to upgrade or downgrade as your business needs change.
Return on investment (ROI)
Consider the potential ROI each package can deliver. While a more expensive package may seem daunting initially, it might offer additional features and functionality that can significantly impact your business's success in the long run.
The importance of responsive web design and mobile optimization
In today's mobile-driven world, having a mobile responsive professional website that looks great on all devices is crucial. Mobile optimization can significantly impact user experience and search engine rankings. When evaluating website packages for small business, pay attention to the following:
Responsive web design
Ensure that the WordPress website package offers responsive design templates that automatically adjust to different screen sizes. A responsive website will provide a seamless user experience across desktops, tablets, and smartphones.
Mobile optimization
Check if the package includes mobile optimization features such as fast page loading speed, mobile-friendly navigation, and touch-friendly buttons. These features will enhance user experience and improve your website's visibility in mobile search results.
Customization options and flexibility in website packages
Every business is unique, and your website should reflect that. Look for best website packages that offer customization options and flexibility to tailor your site to your specific needs. You may consider the following:
Customization options
Evaluate the level of customization available in each package. Can you easily modify the design, layout, colors, and fonts? Customization options are essential for creating a website that aligns with your brand identity.
Third-party integrations
Check if the package allows for seamless integration with third-party tools and services. This will enable you to add functionality to your site, such as social media feeds, live chat, or customer review platforms.
Scalability and upgrades
Consider whether the affordable website design packages can accommodate future growth and expansion. Ensure that it offers flexibility to add new features or upgrade to a higher package as your business evolves.
Additional services and support included in website packages
When choosing WordPress website packages, it's important to consider the additional services and support provided. These can make a significant difference in the success of your website. Look for the following:
Technical support
Determine the level of technical support offered by the website package. Check if they provide 24/7 customer support, live chat, or dedicated account managers. This support will be invaluable if you encounter any issues or need assistance with your website.
Training and resources
Assess whether the package includes training materials, tutorials, or resources to help you make the most of your website. This can be particularly helpful if you're new to website development and management.
Security and maintenance
Consider the security measures and maintenance services provided by the company. Look for features such as SSL certificates, regular backups, and software updates to ensure your website remains secure and up-to-date.
Conclusion and final tips for choosing the perfect website package
Choosing the perfect website package for your business can be a complex process, but by considering the factors mentioned in this guide, you'll be well-equipped to make an informed decision. To recap, here are some final tips to help you choose the right website package:
Clearly define your business needs and goals before evaluating website packages.
Consider the different types of website packages and their pros and cons.
Evaluate the features and functionality offered by each package.
Compare pricing and budget considerations.
Prioritize responsive website design with search engine optimization.
Look for customization options and flexibility.
Consider the additional services and support included in each package.
By thoroughly assessing your requirements and considering these factors, you'll be able to select a website package that perfectly aligns with your business needs and helps you achieve your goals. Remember, your website is your online storefront, so choose wisely and invest in a package that will drive your business growth in the digital world.